Whether you're brand-new to the multi-family or apartment industry, or a seasoned pro you're likely well aware that creating killer social media content can be a total game-changer for your apartment communities.
But let's be honest, coming up with fresh and engaging ideas can be a challenge, especially when it feels like everything's already been done. That's why we've put together a list of 13 apartment social media accounts you need to follow that are absolutely crushing it on social. By following their lead, you'll have a head start in creating content that your residents (and potential residents) will love.
The accounts we've selected for this list have found unique and creative ways to showcase their communities, engage with their followers, and ultimately drive engagement. By taking inspiration from these top performers, you'll be able to craft a social media presence for your apartment that stands out from the crowd.
So, let's jump right in and take a closer look at these apartment social media accounts you need to follow to bridge the gap between your current content and the elevated social media presence you're striving for.
1. 5151 Downtown Littleton
If you're looking for some serious grid goals, 5151 Downtown Littleton is a must-follow. Their Instagram feed is the perfect example of aesthetic balance, featuring everything from simple apartment shots to more complex and visually pleasing graphics. (Managed by yours truly)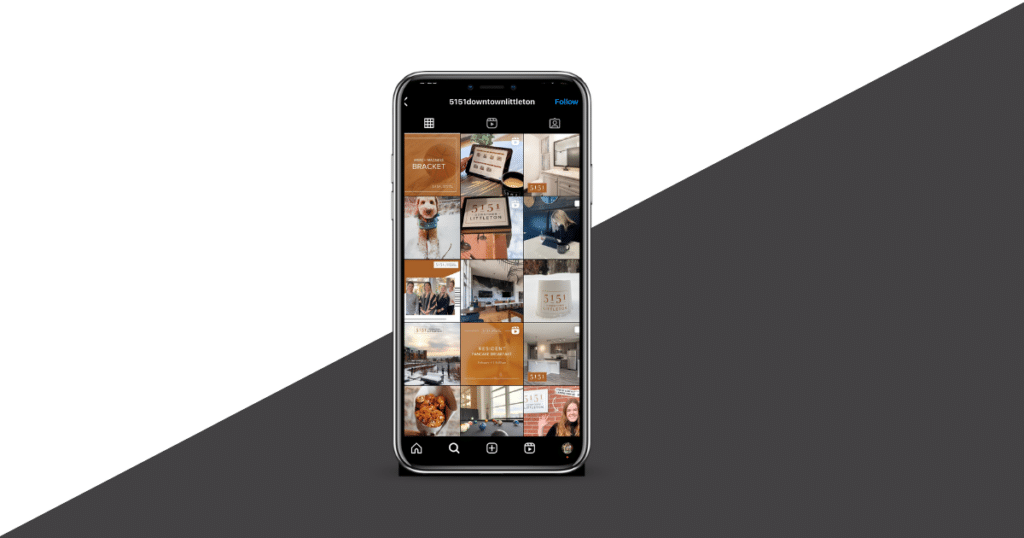 2. Smart City Denver
By utilizing trending audio in their Instagram reels, Smart City Denver has found a way to engage potential residents and keep up with the latest social media trends. With users spending 30% of their time on Instagram viewing reels, this is a strategy worth implementing.
3. Apartments at Maddie
The Apartments at Maddie stands out from the crowd by showcasing the personality and human side of their community through their leasing team. By sharing behind-the-scenes moments, community events, and encouraging residents to lease, their social media presence is relatable and inviting. (Managed by Brindle)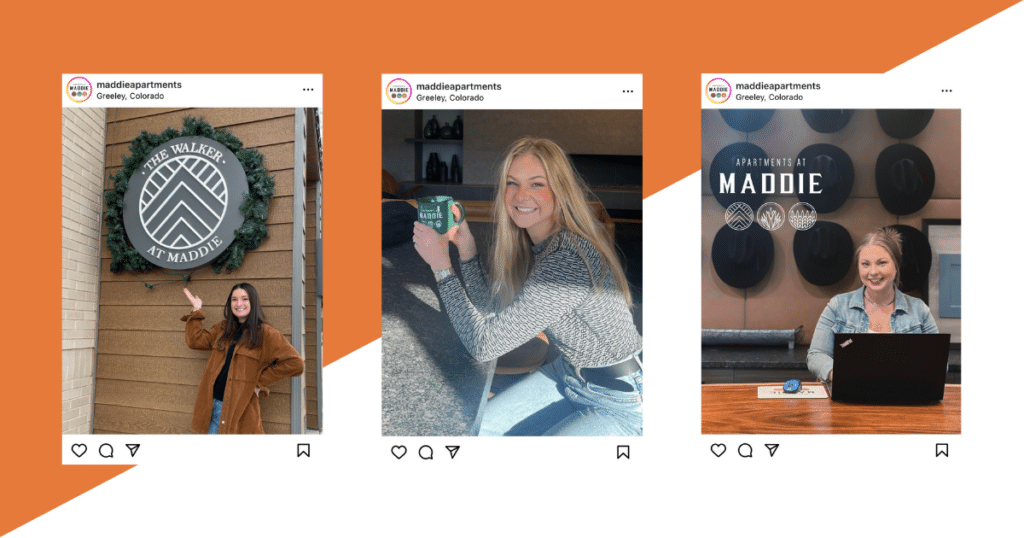 4. Four Star Realty
If you're struggling to maintain a consistent brand image on social media, take a cue from Four Star Realty. Despite having a variety of apartment styles to market, they maintain a cohesive look and feel through branded graphics and consistent styling.
5. The Junction Apartments
If you haven't hopped on the TikTok bandwagon yet, The Junction Apartments might convince you to give it a go. This student housing community knows how to leverage TikTok trends to reach larger audiences.
6. Six Canyon
Six Canyon knows that they're not just selling floor plans – they're selling a lifestyle. By showcasing the stunning natural beauty and exciting attractions of Glenwood Springs, Colorado, they remind followers that they're not just choosing an apartment, but a community to call home.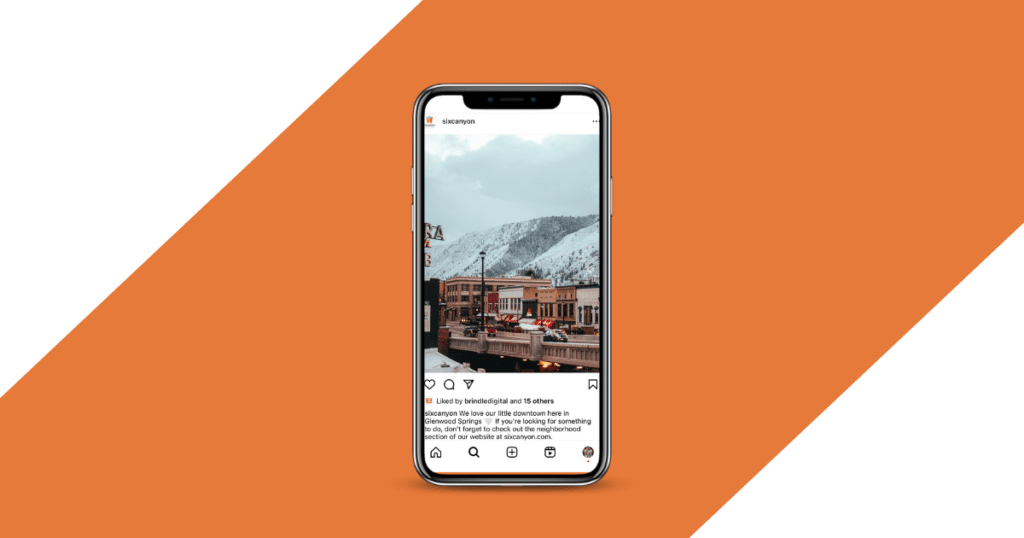 7. The Lotus
If you're looking to market apartments to college students, The Lotus Apartments are a great example to follow. In a competitive field like student housing, their use of social media giveaways, Instagram reels, and highlighting resident events helps attract younger audiences and keep their content fresh and engaging.
8. Wasatch Premier Communities
Leading the pack in the multi-family marketing game by utilizing Pinterest in a fun and unique way, Wasatch Premier Communities showcases their communities and the surrounding neighborhood through visually stunning and engaging boards.
9. Apartment List
Looking for an apartment can be stressful, but Apartment List takes the edge off with their funny and relatable content. Following them not only gives you a laugh but also insight into what renters are searching for in an apartment and how to connect with them on a personal level.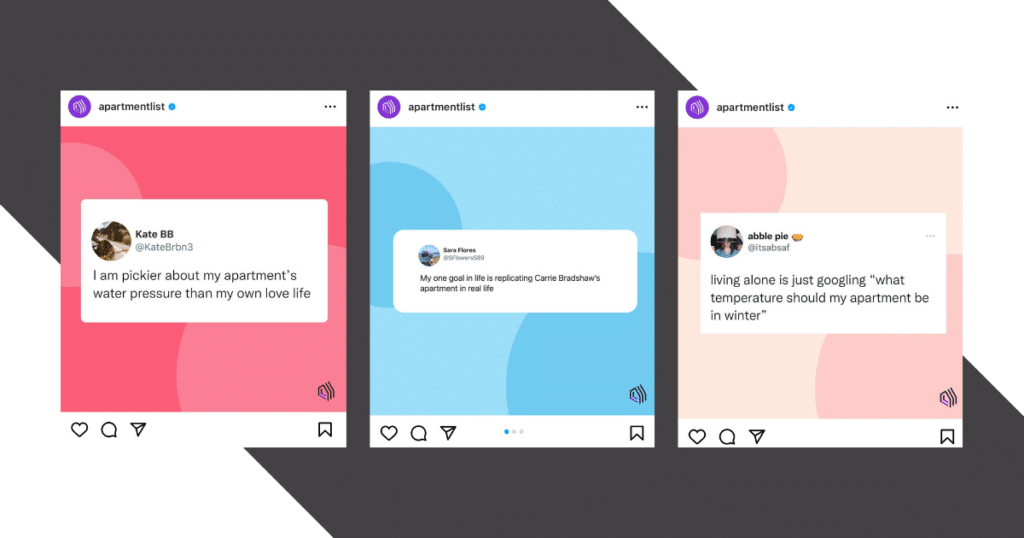 10. No Fee Apartments
Apartment hunting on TikTok? Yep, that's a thing now. Check out No Fee Apartments for inspiration on how to create engaging video tours of your available units and attract a larger audience.
11. West Pine Lofts
If you want to know what it's really like to live in an apartment community, West Pine Lofts is a must-follow. By showcasing their residents and their community, they demonstrate that living in an apartment doesn't mean sacrificing fun and socialization – unless you count trying to fit a couch up a narrow stairwell!
12. Apartment Life
Apartment Life is the perfect follow for anyone who wants an inside scoop on apartment living. They showcase everything from the latest amenities to resident events at apartment communities and make you wonder why you ever thought living in an apartment might be boring.
13. Madison Humphrey
Looking for a good laugh in between checking out apartment content? Add Madison Humphrey on Instagram. Not only does she create hilarious apartment-related content, but great Instagram Reels for a good laugh.
In the ever-evolving world of social media, it can be tough to stand out from the crowd, especially in the multi-family industry. But, by following these 13 apartment social media accounts, you'll gain inspiration and insight on how to create content that will engage and attract potential residents. From visually stunning Instagram feeds to relatable and funny content, there are many things you can apply to your own social media content strategy. So, let's get scrolling and take your apartment community's social media game to the next level!