Your homepage is the most visited page on your site, and to no surprise, has the most important job on your website. Your apartment website needs to capture visitor's attention, call them to action, and clearly explain the process to lease an apartment.
But yet, a lot of apartment websites are overwhelming, confusing, and difficult to navigate.
Stop confusing and start converting visitors into leads with these 5 apartment website design elements.
1 – Tell Visitors What You Want Them to Do
AKA, have a strong call to action. What do you want visitors to do when they land on your site? Contact you? Buy something? Fill out a form? Make this action clear.
In some instances, such as on many apartment websites you may want to provide visitors with two calls to action, or a couple of different options to get in touch – some people may prefer to call directly, while others would rather fill out a simple contact form.
Just make sure this call to action is clear and easy to find. While some website designs are gorgeous and stunning, function outweighs design every time in our opinion.
Examples of various calls-to-action:
Schedule a tour
Lease online now
View our leasing specials

2 – Avoid Overwhelm
You land on a website because you want to explore, learn more, and if intrigued get in touch, apply, or schedule a tour.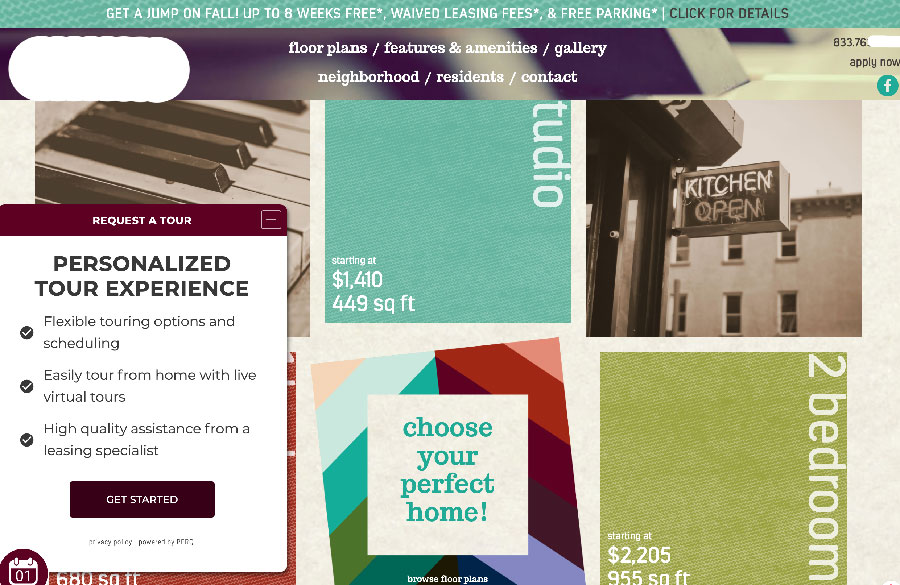 But upon loading the page you're overwhelmed with a chat widget…
then suddenly a pop-up message…
scroll down the page and another announcement appears.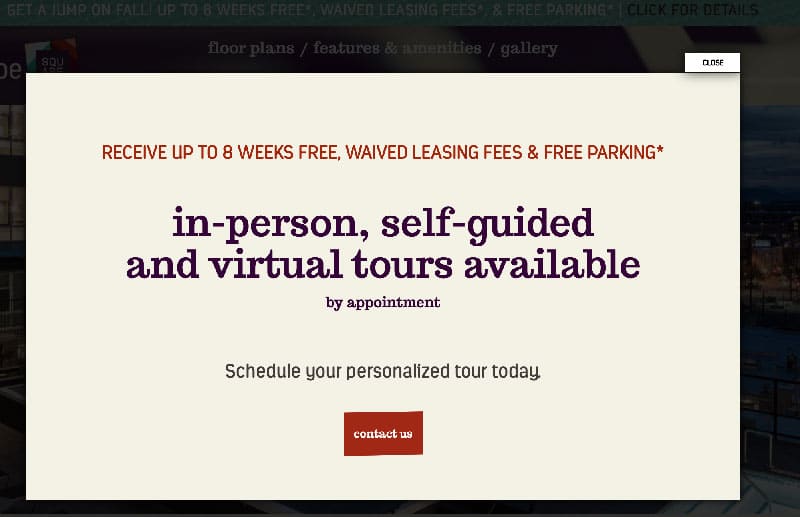 So distracting! Too many calls-to-action and annoying announcements just complicate, overwhelm, and negatively impact the visitor experience.
At Brindle, we understand that you want to make it super clear about everything you have to offer and want to give people options to get in touch, but it's a balancing act – if you confuse or overwhelm, you'll lose.
3 – Include a Specials Webpage with Contact Form
Does your apartment regularly have leasing specials? Created a dedicated webpage to showcase current specials – especially in 2020 and heading into 2021, renters are expecting to see a leasing special. And if you don't have a special? No problem, put an evergreen 'please check back' announcement or use this area to highlight a resident referral program, etc.
Through internal testing, we've found that having a specials page on your website increases conversions by 25% than those without.
With that being said, make sure to include a lead form directly beneath the specials, often we find this to be the highest converting lead form on apartment's websites.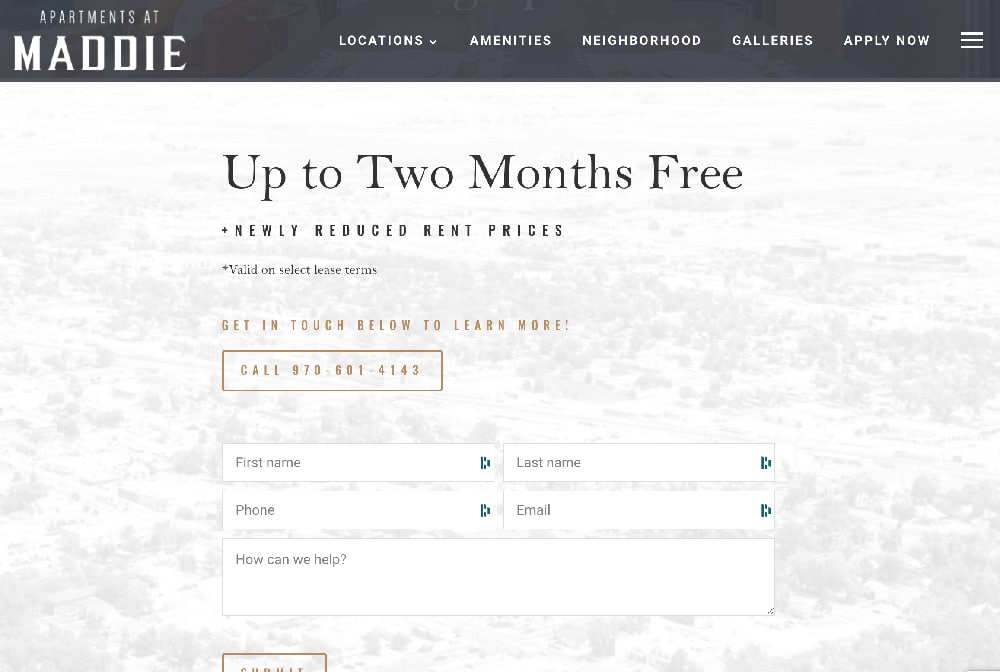 4 – Gallery & Tour Webpage
Make it easy to tour and lease an apartment online. As we move into a post COVID-19 world, make it simple to take a virtual tour of your apartment units. Feature as many gallery pictures as you can so prospects can get a good look at your apartment community before actually visiting. It's no lie that seeing is believing and is equally true with apartment leasing.
5 – Focus on site speed
People will not wait for your website to load. And it would be a shame if you have a beautiful property to showcase, but your website load speed is holding you back (or even worse, losing you valuable leads).
In fact, the probability of bounce increases 32% as page load time goes from 1 second to 3 seconds. (Source: Google/SOASTA Research, 2017.)
There are several free website speed testing tools out there such as Google PageSpeed Insights GT Metrix, and Pingdom.
Average Speed Index (or how quickly the mobile page displays content) Best Practice: Under 3 Seconds*
With the majority of website visitors on mobile devices, website speed becomes more and more important – faster mobile site speed makes people view more pages on the site and convert more.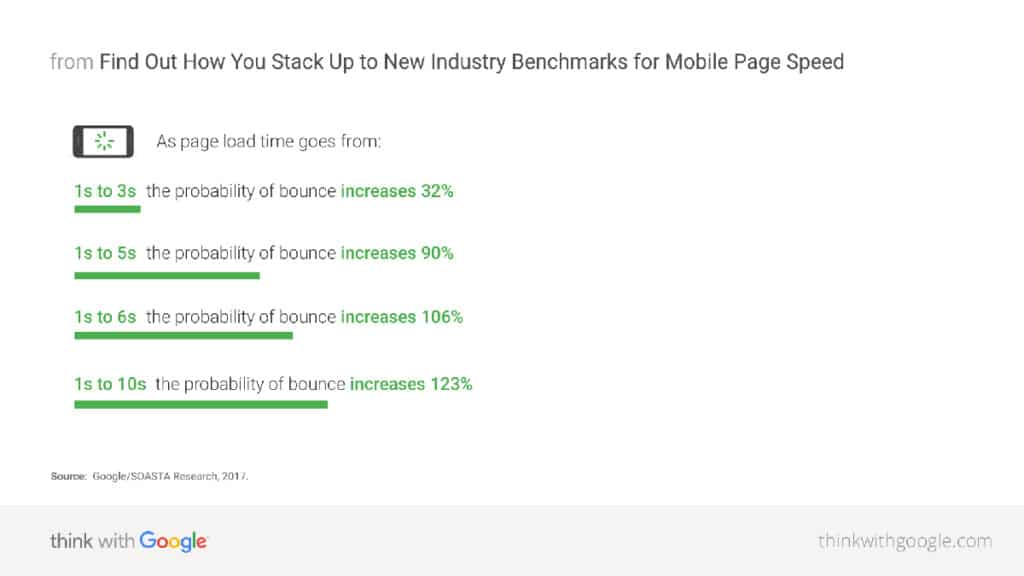 Closing thoughts…
At Brindle, as a digital marketing company who has over a decade of experience in industries outside of multifamily there still are a few eye-opening 'standard ways of doing things' in multifamily that, to us, seem to be from opposite schools of thoughts to what we've found works to convert.
Want people to get in touch? Make it easy. Break down the barrier to entry.
Have a chat function? Let people chat (ahem, without an email capture).
Allow people to fully explore and experience what you're "selling" at their own pace.
Leasing office closed? Have a way for visitors to take video tour through apartment units.
And keep in mind, nearly 60% of website visitors are likely on their cell phone and should be able to complete the entire leasing process from that device if they choose to do so.
*steps off soapbox*
We hope these apartment website design tips help to get you more leads.
Do you have any website design features or elements that have helped increase conversion rates? Share with us in the comments below.
Have questions about our multifamily website design and development process? Get in touch. We'd love to learn more about your project and show you how our research into the overall user experience will help drive more leads for your apartment building.
Sources:
Think with Google – Marketing Strategies & Mobile Page Speed Insights
Other great reads:
Six Trends to Watch for in Multifamily Property Management in 2021