NOTE: This article was first published on March 19, 2020. We'll update as necessary.
It feels like we're writing this post in a moment of time that should be a movie. But it's reality. We're still confused and as uncertain as everyone else. But during these strange times, it's important we as marketers keep a positive and logical sense to what's happening.
You're probably asking:
What impact are we seeing or going to see with apartment marketing?
What changes can or should I make to our marketing campaigns?
Do I have to change anything?

Short answer: yes. For one, you have to change your marketing messaging to reflect the increased sensitivity.
Below we're going to cover instant adjustments you should make across your Google Ads, social media marketing, and website.
Google Ads Adjustments for COVID-19
There's no better time than now (or yesterday) to audit your Google Ads campaigns. We're closely watching multifamily campaigns to monitor any big changes or shifts in the coming weeks as things are changing daily.
So, have we seen any major impacts yet due to COVID-19? Overall, what we've seen, is the real estate industry has been mixed when it comes to PPC performance during COVID-19.
For example…
The broader property development and construction industries both are seeing declining conversion rates (-53% and -7%, respectively) and lower search volume. A slowdown in these fields could trigger reduced real estate supply in the future. Source: WordStream
The Multifamily Industry has been mixed up to this point. At Brindle, we analyzed multiple campaigns, comparing week over week data, from March 11-18, 2020 compared to the previous week (not a huge data set to work with but nonetheless…). We are noticing slight performance changes to the campaigns including (on average):
13% decrease in CTR
1.89% decrease in conversions, but:
10.6% increase in impressions
Overall, more impressions, fewer conversions. (Of course, there could be many contributors to these numbers.)
Below are a few action items we've taken with our apartment Google Ads campaigns:
Ensure your ad placements are not showing up on sites with sensitive content related to the COVID-19 pandemic.

Exclude website URLs by adding placement exclusion lists, you can pull together a list of website URLs that include words such as: pandemic, coronavirus, covid-19
Under your account settings, ensure your account is opted out of potentially sensitive content placements.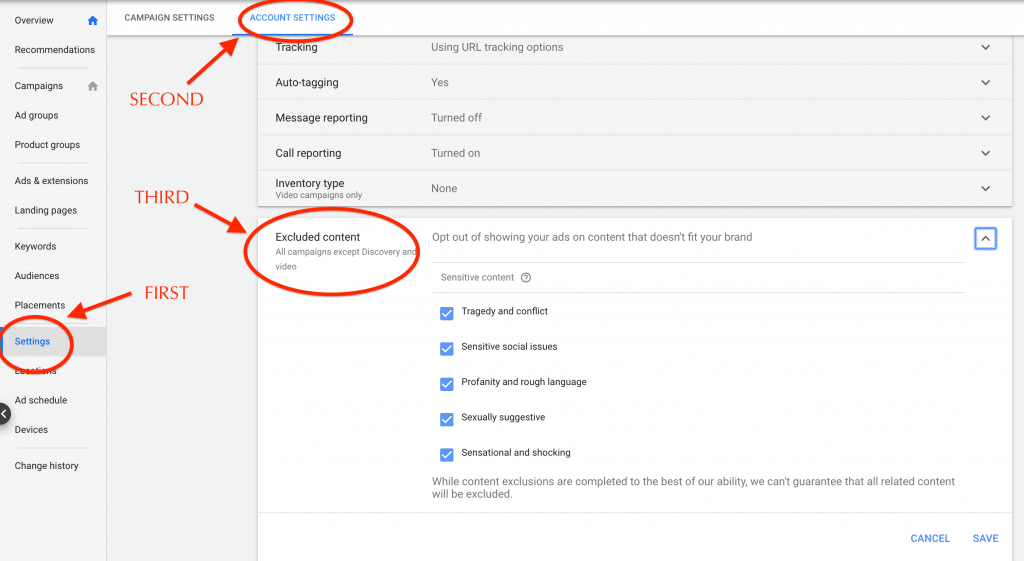 2. Updating Call Extensions: Does your leasing office have limited office hours? Be sure to update any call extensions or call only ads to reflect the best number to reach your leasing team.
3. Add promotion extensions for any current specials you may be offering
4. Add an extension for Virtual Tour options at your apartment community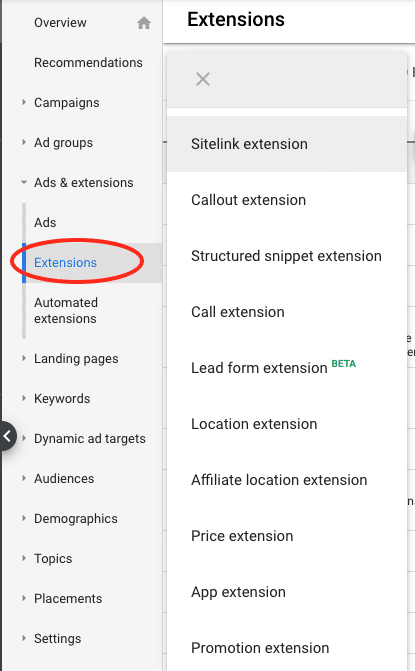 Website Updates for COVID-19
Below are a handful of actions taken by our team to ensure we answer website visitors' questions and hopefully provide information for those looking.
Top Bar 'COVID-19' announcement banner

We've added a top-bar announcement on many websites with relevant updates that pertain to residents and visitors. Create a link to a blog post or webpage where you can post updated announcements on actions taken in response to COVID-19.

Update your CTA buttons: offer virtual or FaceTime tours

The time is NOW to promote and encourage virtual tours or even live FaceTime tours to limit in-person contact but still keep leasing!

Add Virtual Tours to your website

If your website doesn't already have the option for prospective renters to tour the inside of a unit on their own time, it's something you should consider adding asap. Virtual tours are great, but something such as a Matterport 3D tour can provide a few benefits: increase time on site, give a sneak peek into the apartment without any barriers.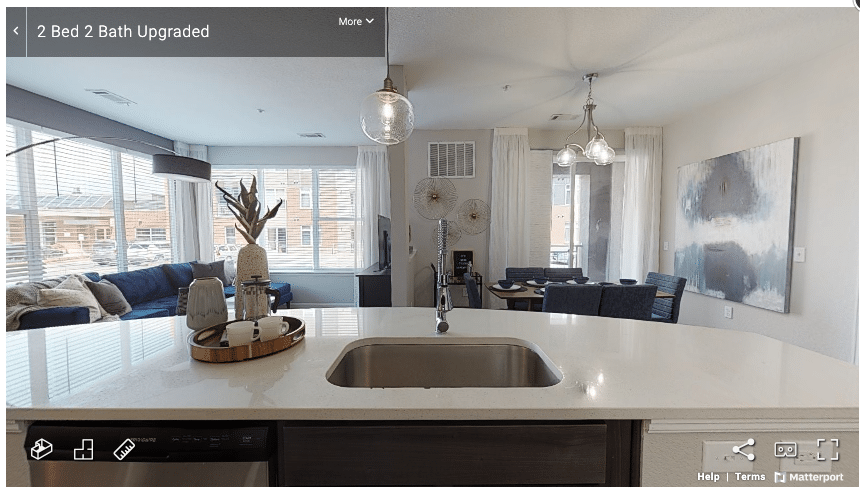 Google My Business Adjustments for COVID-19
Add updates to your Google My Business posts.

Highlight timely updates
Link to real-time Coronavirus updates that have impacted your apartment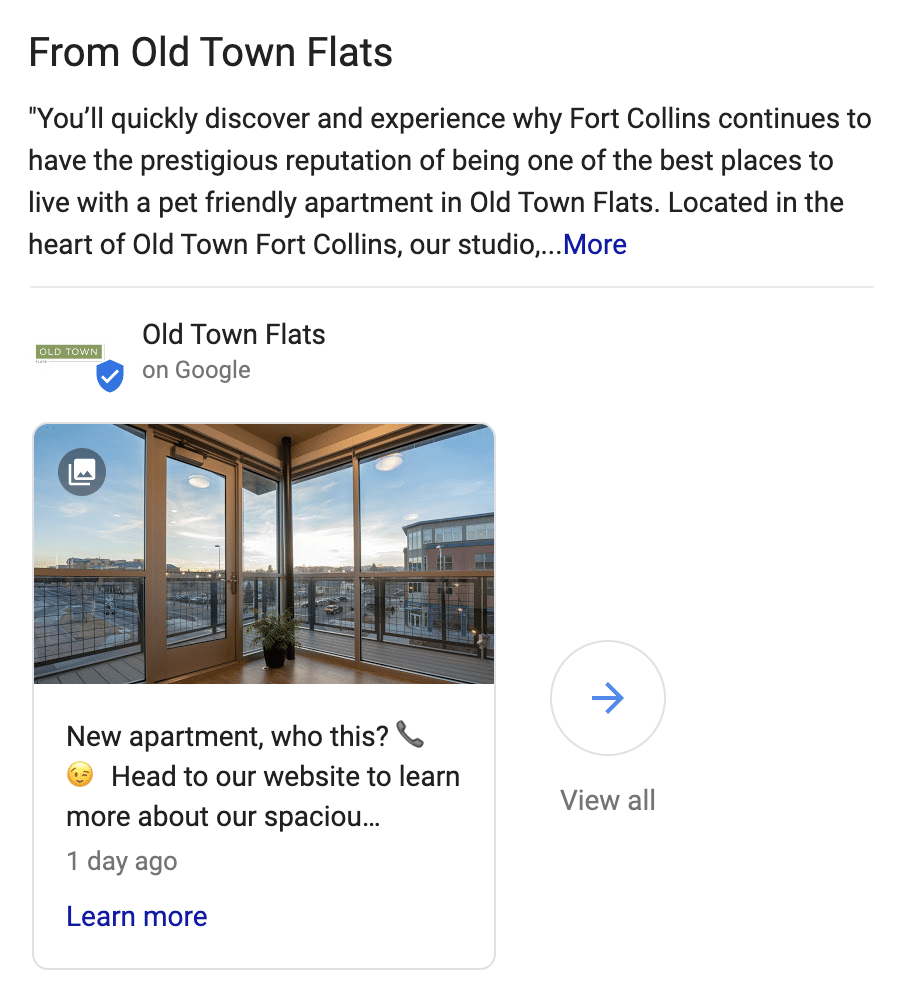 See our post on 3 ways to help your apartment stand out in a saturated market for additional tips here.
Social Media Posts for COVID-19
Our news feed is flooded with COVID-19 coronavirus posts. While you want to be sensitive and address the pandemic that is flooding our nation, it's also okay to carry on. In fact, at Brindle, we all agree it's refreshing to see positive news that isn't related to the coronavirus.
Take note of these action items when it comes to social media:
Review anything that is on auto-pilot – do you have ads that were set up months ago? You may need to make adjustments to the messaging.
Audit all currently scheduled social media posts – i.e. do you have a call-to-action to visit a local restaurant who is now only offering curbside pickup? Time to adjust.
With all of that being said, you don't want to sound tone-deaf or insensitive.
7 social media posts for apartment communities (feel free to swipe these!)
Post caption: Time to make time for a little spring cleaning. Here's to keeping yourself and your home healthy this season. 💛
Post caption: See a boop, send a boop.
We could all use a little furry-ness in our lives these days. Drop a photo of your pet below to spread the love. 🧡
Post caption: Sundays should come with a pause button. Here's to good vibes and living healthy lives!
Post caption: Eating in gets a lot easier when you have a kitchen this sleek. 😍 Drop what you're cooking tonight 👇🏻.
Post caption: Amidst the chaos, here's your friendly reminder to be kind and care for one another. 💛
Post caption: Sleeping in and forgetting about all the worries in the world sounds pretty good right about now… who's with us?
Post caption: Home is here. Sending you good vibes for the week ahead. Learn more about our community & schedule a virtual tour at [insert url]
Navigating any crisis, including the COVID-19 pandemic, is not easy. We're all stressed, concerned and the future is unknown. Let's control what we can, take things day by day, have a positive mindset and come together as a community. We will get through this. See you on the other side, friends.