How do I organically rank my apartment on Google?
As an apartment marketing agency, we are often asked how we can rank the apartment websites we manage to rank above some of the big players like apartments.com or Zillow.com.
SEO for apartments is something that needs a consistent focus. These larger sites have a lot of traffic going to their site as an advantage, but there are simple tasks that can help you rank better locally and boost traffic to your website as a multifamily community.
(And, as a side note, Google has made some changes where these large sites are limited to only 2 organic spots on the first page, giving the smaller guys an opportunity.)
Take a look at a few simple strategies to boost your apartment SEO.
Take Advantage of Free SEO Tools
First and foremost, take advantage of Google's free tools so you can track your apartment SEO ranking. Set your site up on Search Console, Google Analytics and if you're on a WordPress site, download the Yoast SEO plugin. It's a simple easy tool to help you manage your SEO on your site.

You don't have to be an expert to sign up for these. Just having them connected will be advantageous. But, take the time to learn the basics for each platform.
Mobile-Friendly Site
With so many people on mobile devices, it's extremely important to be mobile responsive. Google gives higher priority to those sites that are easy to navigate on mobile devices. Test how easily a visitor can use your page on a mobile device with this free tool from Google: https://search.google.com/test/mobile-friendly
Facebook and Instagram for Apartment Communities
Make sure you are commenting and responding on your social media platforms – often. It's free and it helps with SEO. Plus, it's a great idea to engage with your current residents and potential residents. It shows you care about your community and your residents.
Another way to utilize your Facebook and Instagram is to post articles or page links on your social media that go to your site. These are called 'backlinks' and backlinks are a big player in increasing SEO. For example, add a link to your upcoming specials or promotions.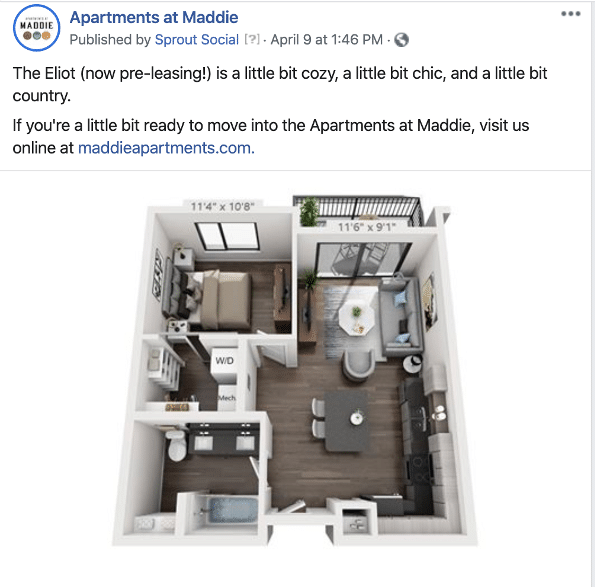 Twitter for your Apartment Community
Yes, I said Twitter. Twitter not only helps with getting out important messages and updates quickly to your residents, but it also helps with SEO. Search engines use social media engagements such as likes, shares and comments (see that word comment again) to rank your website.
Think about it this way… Google's goal is to give people the most relevant information and the best results for their search terms. If I search for "Fort Collins apartments that accept pets" Google crawls all of the sites and information out there and will rank those sites with the searchers keywords like "apartment and pets" higher.
Ok, so what does that have to do with Twitter? If your Twitter account, Facebook account, Instagram account (you get the idea), AND your website all have the term "our Fort Collins apartment accepts pets", Google says, "BINGO this is a relevant website to show this searcher!"
So, how do you use Twitter for your Multifamily Community?
Look at trending topics on Twitter or check out currently trending hashtags.
For example, #FunFactFriday is trending, add a post on Friday that says, "Our community offers coffee with your pet in the dog park every Saturday at 8am – see you in the morning". Make sure to include a link to a page on your site, if applicable, about the event, another way to include a backlink.
You can check out important hashtags, by taking a look at the larger apartment sites and use those, they already did the research, why not!
And, while you're at it, why not create your own branded hashtag? Go ahead, it's fun!
Apartment Specific Keywords
Use apartment specific long-tail keywords. Google has made some adjustments on how many times a domain can show up organically on the first page of the SERP (only two times). This actually helps prevent sites such as apartments.com from taking up all the inventory. But you have to be smart about it and go after those longer tailed keywords.
Keywords are the terms people are searching. They typically are not just one word, but a string of words called "long tailed keywords". The difficult words to rank for are going to be the generic "apartments near me" but if you add a few words to this sentence, it's now a longer tailed keyword, plus the person is further down the intent funnel, because they are beginning to know exactly what they want.
Apartments in [location] that allow pets
Apartments in [location] with 3 bedrooms
Apartments with garages in [location]
[location] apartments that have a gym
Try to include a few long-tail keywords in the first 100 words of your homepage or include them in your headings.
Go after the keywords that your potential residents are searching for. How? Use Google Suggest. As you type in a keyword, you can see the most popular searches.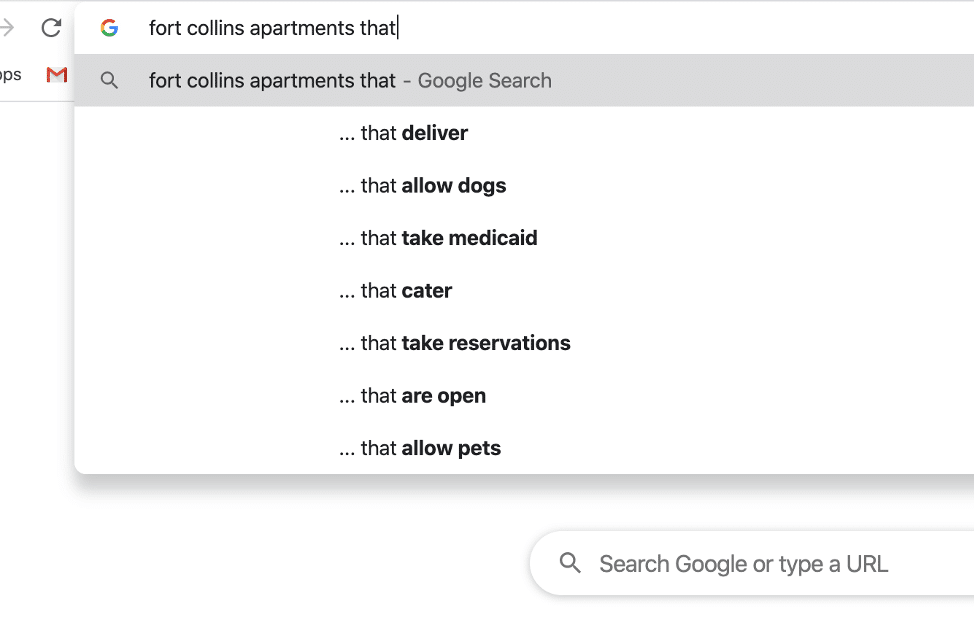 Take advantage of Google My Business (GMB)
Fill out all of the information on your profile page of your GMB with as much detail as you can. The is another place Google grabs information from and will help increase your apartment website SEO ranking.
Add a lot of photos and give the photo a title. People want to get a visual of the apartment community.
Fill in the products section with your floor plans for your studio, 1, 2, or 3-bedroom units. List your amenities and a description in the services area.
Make sure you post weekly and add/update any events or special offers you have for the month. Again, include the link to your site taking the viewer directly to the information posted.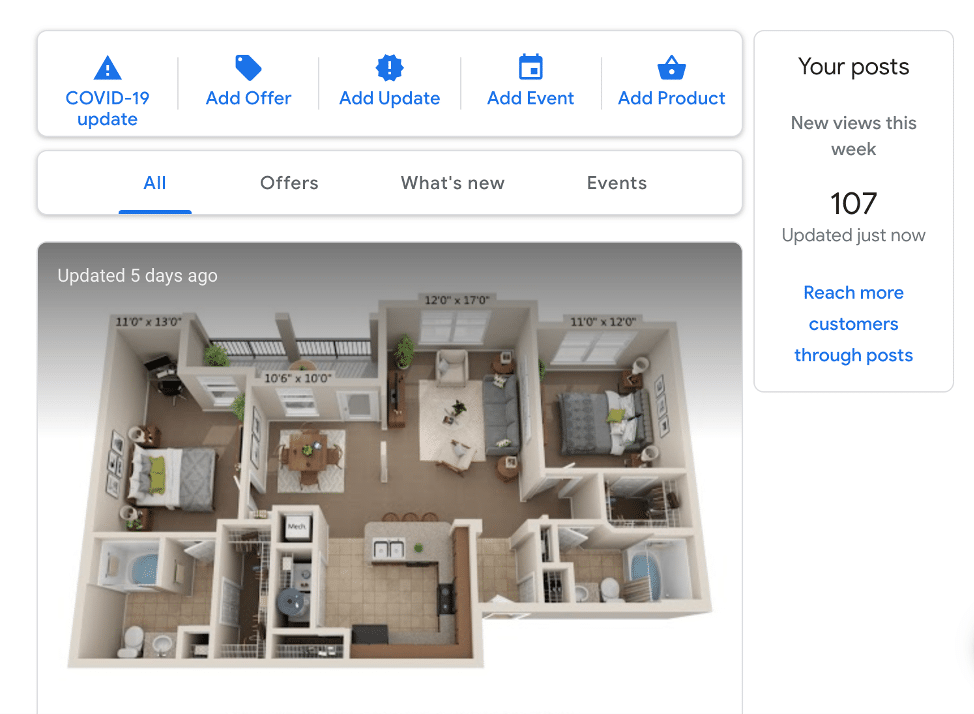 Plus, be sure to keep reviews updated and again, comment on every review.
Directory Listings
Finally, make sure your name, address, and phone number are updated on all of the directory listings. Add your community to as many relevant directories as you can. You can also use a directory listing service like yext.com. If you work with a digital marketing agency, many times they include this in their services.
There are a lot of tactics you can use to increase your SEO, but if you haven't started with these simple ones, then we recommend getting these going. Once you master these simple tasks, then you can begin to dive deeper into the more technical SEO tactics. Stay tuned!
How is your apartment marketing performing? Get in touch with our marketing specialists today to learn more about how we can help your property stand out.