Google Ads for apartments can be a lean, mean, lead-generating machine if you know how to use it efficiently. For example, the highest conversion rate in our accounts during 2021 was a whopping 45.88% (compared to the industry average of 6.98%). With a well-designed website and landing page, you're set up for success.
Explore our top converting Google Ads for apartments of 2021 broken-out by ad type: Responsive Search Ads, Expanded Text Ads, & Responsive Display Ads.
Responsive Search Google Ads for Apartments
Overview:
Each Responsive Search Ad allows you to enter 3-15 headlines and 2-4 descriptions, and then Google optimizes performance by showing the best-performing combinations. The messages adapt across devices & searches to make sure that all users are seeing the most relevant message while optimizing their experience.
You may not be able to see which specific combinations convert, but as far as Google Ads for apartments go, RSAs are a relatively hands-off way to get great results. Plus, Google is removing expanded text ads as an option as of June 30, 2022 – so you better get familiar with these.
The Stats:
12.12% Avg. CTR (3.71% industry average)
6.18% Avg. Conversion Rate (2.47% industry average)
$1.76 Avg. CPC ($2.37 industry average)

Expanded Text Google Ads for Apartments
Overview:
Expanded Text Ads have the option to enter 1-3 headlines and 1-2 descriptions, and can be used to test specific combinations or to send a specific message to the user. These are great for highlighting the best parts of your apartment community, such as the location, amenities, floor plan options, and other features.
Here at Brindle, we usually have 2 expanded text ads and 1 responsive search ad per ad group, but as mentioned before, expanded text ads will be discontinued on June 30, 2022. Now is a great time to test specific keywords and headline/description combinations with these types of ads before it's too late.
The Stats:
11.39% Avg. CTR (3.71% industry average)
6.80% Avg. Conversion Rate (2.47% industry average)
$2.29 Avg. CPC ($2.37 industry average)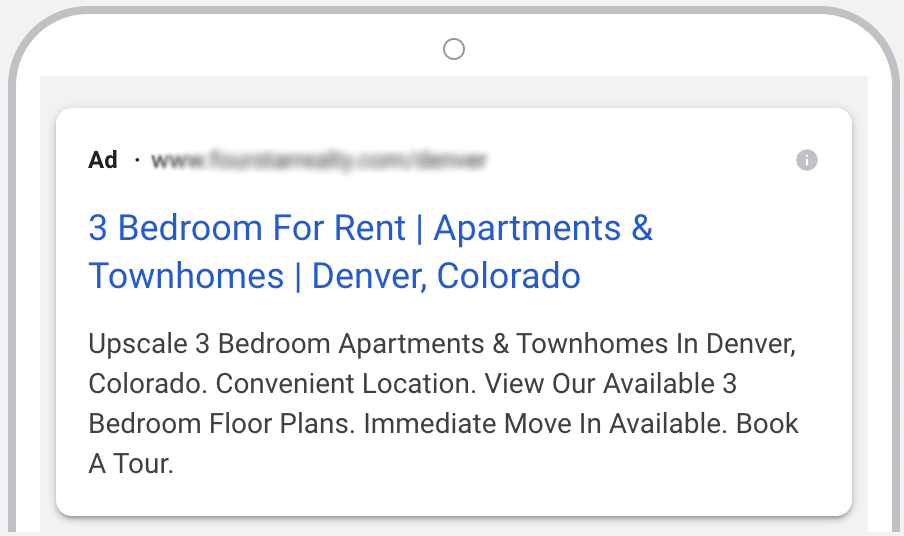 Responsive Display Ads for Apartments
Overview:
Responsive display ads are eye-catching, adaptable to multiple device sizes, and are also relatively hands-off. You can enter up to 15 images, 5 headlines, 5 descriptions, and 5 logos, and it will present the highest-performing combinations. 
Another benefit is that unlike responsive search ads, you can see which assets are performing best, allowing you to optimize the ads even further. Pretty sweet, right? Adding some animation to responsive display Google Ads for apartments makes them even more eye-catching – there are lots of programs that make this easy, such as Creatopy.com. Now, let's look at our top-performing one from 2021:
The Stats:
1.26% Avg. CTR (1.08% industry average)
1.75% Avg. Conversion Rate (0.80% industry average)
$0.70 Avg. CPC ($0.75 industry average)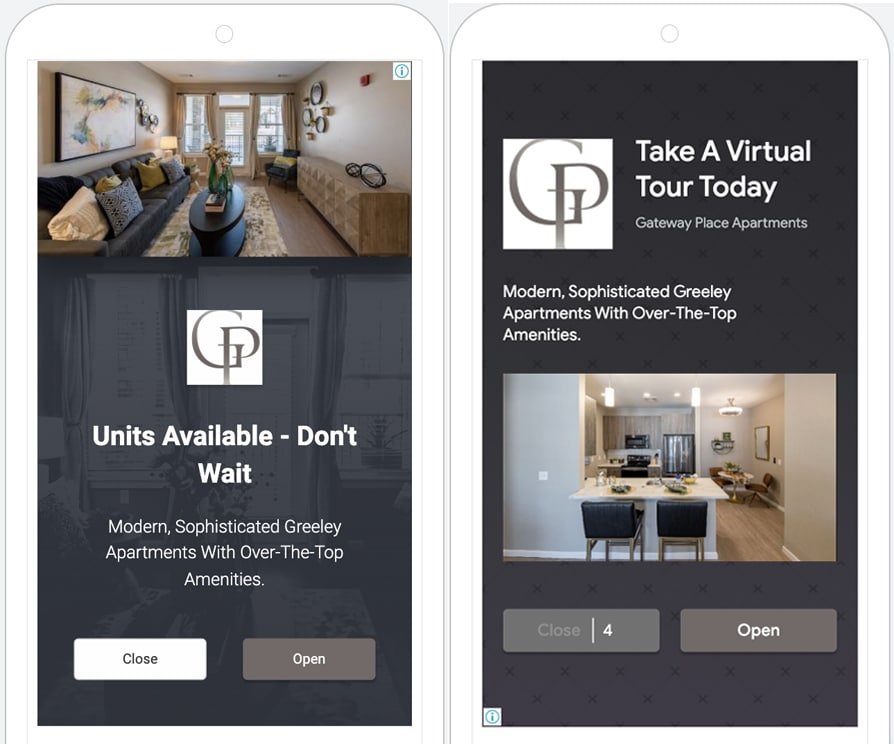 In Conclusion
There are many options for making the most out of your Google Ads for apartments, regardless of your budget and goals. We always make sure to highlight the best of your community in our ads and let your brand do the talking. Let our Google Ads experts at Brindle take the weight off of your shoulders and get you the leads you've been looking for – set up a time to chat with us today.