Let's face it. Branding a business is hard.
From designing a logo that is professional to creating a color palette that matches a business' essence – it's no piece of cake.
However, we have a few tricks up our sleeves here at Brindle. With a full brand design questionnaire that covers every aspect of your business' future brand (from tone of voice to unique value propositions) we start every branding project with a strong foundation. By digging deep into aspects like brand personality, target audience, and competition, our questionnaire helps to shape your brand's identity and strategy before we start designing.
In this article, we'll explore 18 of the questions we ask in our brand design questionnaire. Let's dive in!
1. Logo/Company Name Spelling
Can't forget the basics.
2. Address
Your brand is not just your offerings, name, logo, or website, it's also your location! At Brindle, the neighborhood around your multifamily property directly impacts how your consumers will interact with your brand. Whether your property is stationed in the heart of downtown or in the peaceful suburbs, we'll take that into consideration as we craft your brand.
3. How did your company get its name?
Understanding how your company got its name helps us understand the story we want to tell through your brand identity. Whether your name was inspired by the color of a dog's coat (like Brindle) or by the greek goddess of victory (Nike), your story influences how we market your brand.
4. List 5 adjectives (see examples below) that accurately describe the personality of your brand/company. In addition, select 5 that are NOT in alignment with your brand personality.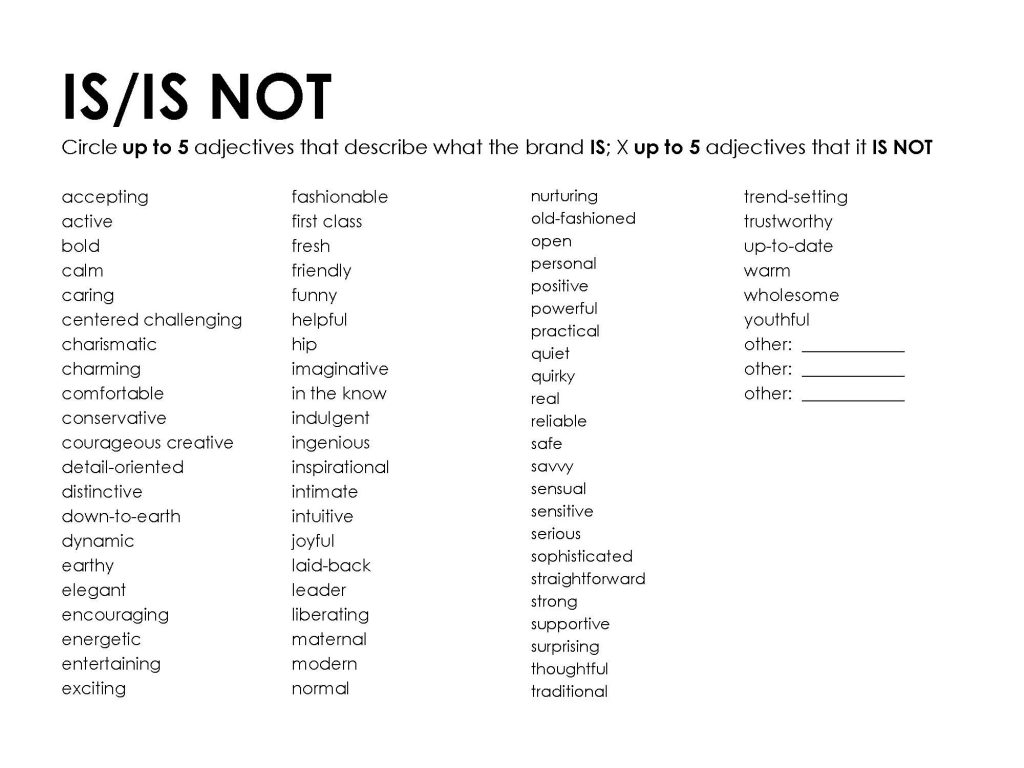 Not only do we want to know what you are, we want to know what you're NOT.
5. How does your brand's image fall between these opposing characteristics?
Masculine/Feminine
Simple/Intricate
Grey/Colorful
Conservative/Extravagant
Approachable/Authoritative
Necessity/Luxury
Fun/Serious
Professional/Casual
Modern/Classic
Sporty/Elegant
Extreme/Safe
Saying it again for those in the back: when we say we want to know who you are, we want to KNOW who you are. Defining a brand is like defining a person, we want to know your brand's personality, way of acting, habits, and beliefs. Once we do that, we know we can achieve brand consistency across marketing materials.
6. Which of these logo formats do you believe best represents your brand?
Logotype: This format includes your company's name in stylized typeface. A font-based logo.
Pictoral Mark: This mark includes literal or representative imagery to symbolize your brand
Abstract Mark: This format includes abstract shapes and symbols that convey a specific idea or attribute. These types of logos are very unique and identifiable often without the company name.
Emblem or Enclosure: This features the name or initials of the company, usually as part of a pictorial element or shape.
We're getting down to the nitty gritty with this question. When it comes to a logo, there are hundreds of options we could show you that you might think are 'nice,' but there are only a few that can translate your brand and essence perfectly. Your input will guide us as we develop our designs.
7. Are there any illustrations, colors, or elements to be sure to incorporate OR stay away from?
i.e. we'd really like an abstract mark that represents a mountain. OR, please avoid adding any mountains or the color green as [insert explanation].
If there are certain graphical elements you're hoping we include, tell us! As long as it matches your brand's target market and brand strategy, we'll do everything in our creative power to incorporate it into your brand. Likewise, we'll also make sure we avoid anything you want us to stay away from.
8. Audience. Tell us about your ideal customer persona. What demographics, interests, job titles make up your target demographic? Be specific.
i.e. young professionals 25-40 years old, highly educated, concerned about location over cost and willing to pay for premium amenities. Status matters and they shop for luxury brands and quality. Pets are family and they spend weekends adventuring at local cafes or escaping to the mountains.
At the end of the day, we're designing a brand not for you, but for your target audience. We want to ensure that the essence of the brand identity we create lights up your ideal customer persona and is exactly what they've been looking for. A true connection between business and consumer = hot leads that are desperate for your offering.
9. How do you want people to perceive/describe your brand?
How you'd like your target audience to perceive your brand directly impacts not only the relationship you have with them, but your reputation. We want to ensure we're crystal clear in the way you want your brand to be perceived so we can match your vision to a reality.
10. Feel: when a person visits your business, how do you want them to feel? list the key words you'd like your audience to free-associate with your business/product/service.
The reason why you love any brand or product is because of the way it makes you FEEL. That's why we want to connect the two dots between your brand and your target audience's emotions. When we do that, we know we can build a stronger connection that resonates with your customers.
11. What's your unique value proposition? Why would someone choose you over your competitors?
With thousands of businesses being launched every day, today's world is becoming an increasingly crowded market. Fortunately, with a unique value proposition and our design services, we can help you stand out. When someone chooses your business over the one down the block, we'll know we've done something right.
12. What are your best amenities, selling features, or reasons why residents commonly choose to live with you?
When residents choose your community, they don't just choose their apartment, they choose their lifestyle. Any amenities or selling features have a massive impact on how they relate and perceive your brand. If you have in-unit washers and dryers, valet trash, a resort-style pool and fitness center, we already know that we'll be designing your brand as a luxury offering. If you are located in the heart of downtown with close proximity to shops, locations, and activities, we'll include that in your brand's offerings.
13. Who are your top 3-5 competitors?
Provide the names of who you consider to be a few of your largest competitors
Knowing your brand is important, but so is knowing the business down the block offering the same thing as you. By understanding your competitors' marketing communications, brand personality, and value propositions, we can craft your brand into something that's not only different, but something that will fill in the empty spaces other brands neglected.
14. At this point, do you have any criteria for your brand in regards to color, type, style, shapes? If yes, please explain and provide the "why" behind.
As the business owner, we'd bet you already have ideas or preferences regarding your brand's color palette, typography, style, or shapes. Sharing these criteria with us helps us align our designs with your desired outcome.
15. Share brands/logos that you look to for inspiration or that you admire.
Knowing your inspirations helps us ensure our teams are in alignment and can help us further define your brand. We'll piece together a logo that embodies elements that will best serve your brand for years to come.
16. Property Photos
Please upload or share any property photos (a sampling of interior and exteriors) or any renderings available for new construction projects.
If your property has already been built or has renderings of the coming construction, we want to see it! The colors, styling, mood, and essence of your property will impact how we design your brand. Your logo should fit into your brand's property like the last missing piece to a puzzle.
17. On a scale of 1‐5, (1 being inexpensive/value pricing, 5 being expensive/luxury pricing) what do you consider your price point?
Knowing your brand's price point helps us narrow down your brand's (1) target market, (2) design elements (3) style of communication and align these together.
18. Anything else you'd like to add?
We are all ears to anything else you'd like to tell us about your brand. As designers, we are the storymakers of your brand and we want to know as much of the exposition as possible.
If you aren't convinced already, a brand design questionnaire is a game-changer when it comes to building a strong and distinctive brand identity. By asking the right questions about your logo, brand personality, target audience, and competition, we'll craft a brand experience that resonates deeply with your customers.
Ready to get started? Schedule your branding project with us today.