Let's chat about apartment lease-ups, shall we? A common question we get asked is, "When should we start marketing our new apartment building?".
It can be difficult, and too often, marketers and multifamily property managers find themselves uncomfortably close to opening their doors without a solid plan in place. From our experience, we know that an effective marketing plan will take extra time to create and implement – especially with COVID's direct impact on the housing market – but it's more important now than ever.
According to Shelby Corliss, Marketing Coordinator at P.B. Bell, "Covid-19 [has] forced [multifamily housing] to get creative and move fast. Traditional ways of marketing a lease-up are no longer enough and things we thought we had a few years to test and implement [are] now a necessity…"
Because of this quickly changing market, strategic plans should be put into place prior to move-in to ensure the health and success of new multifamily properties. We've outlined a detailed apartment lease-up marketing plan with deliverables during each phase – from the blueprint phase to receiving the certificate of occupancy.
With the average time to build a multifamily apartment building being 17.2 months1, this can fluctuate. And as expected, there are variables in which we'd recommend a slightly altered timeline for executing marketing. The outline below serves as a flexible timeline, providing the order of execution on deliverables for a standard multifamily lease-up.
Read on!

18 months out:
Construction plans are in place, the architect and interior design finishes are solidified, and things are heating up. Ground-breaking has likely begun – depending on the unit count, project size, and construction timeline.
Marketing wise, budgets are often tight, and teams are cautious about where marketing dollars are being spent.
But it's also imperative to get the word out about your new apartment, because the local community is wondering what is coming and when – and you don't want to disappoint!
Lorne Bourdo and Robert Willsie from Oz Architecture mention a few game-changing concepts to revolutionize the COVID-era construction practices and keep everything on track.
With the help of Bluebeam Revu digital print sets, active RAILs (Rolling Action Item Logs), and Pull Planning project management, they've been able to maintain high-efficiency levels and "[utilize] all key players in the project, [so] everyone's expertise is meshed together into one cohesive group, working as one to identify potential problems and cut down on unnecessary time spent." – Lorne Bourdo, Oz Architecture
Provided your construction company has made similar work process adaptations, you can rest assured that your new apartment building is well on its way to completion, shifting focus back to your marketing timeline.
Deliverables:
Create logo and branding elements
Purchase domain name(s)
Finalize exterior & amenity renderings

Perfect to share on social media, in email newsletters, etc.

Request construction signage, construction fence banner, temporary signage, etc.
Claim social media profiles
Send a press release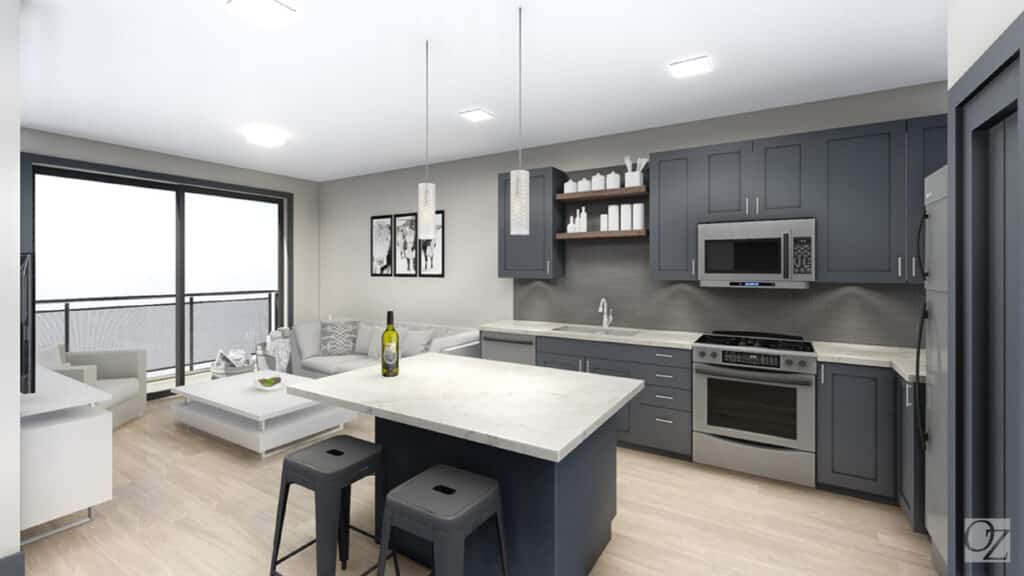 12 months out
Development has started, but you'll want to keep a close eye on the ongoing timeline – especially since Lorne Bourdo of Oz Architecture: Colorado Architectural Design Firm, has confirmed that "Construction delays are definitely expected [and] it is more anticipated to be an elongated schedule because of the COVID requirements not allowing as many contractors on site."
As long as you maintain close communication with your contractors, you can adjust your marketing plan accordingly. Provided everything is on-schedule, you can start driving interest and begin to direct prospects into your marketing funnel. A website landing page and construction signage with logo and basic information should be in place.
Deliverables:
Design website landing page

Begin collecting leads and develop a waiting list!

Utilize construction signage, construction fence banner, temp signage, etc.
Send press release with update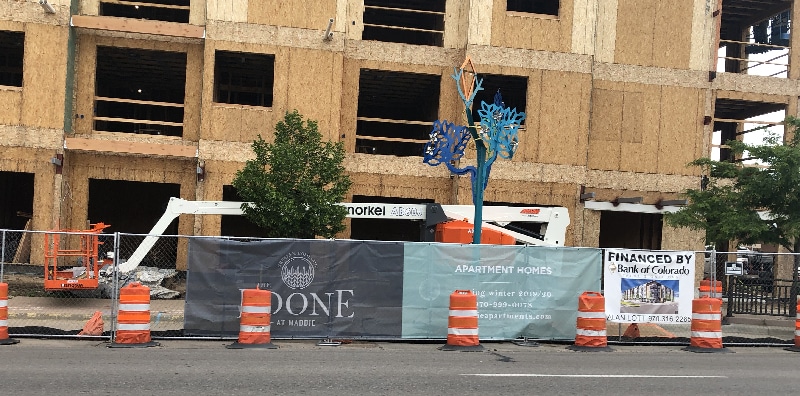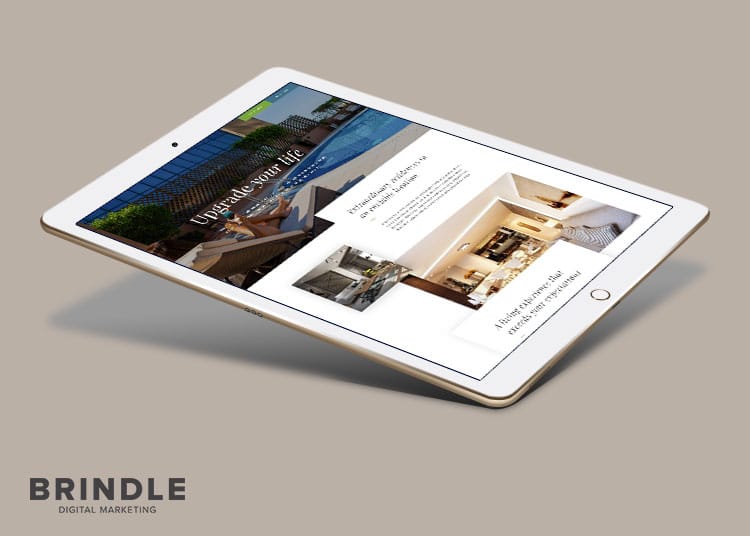 6-9 months out
Time is flying, and hopefully there's some word around town about your new apartments. We've highlighted key deliverables for marketing your new apartment as move-in dates are getting closer each day.
Deliverables:
Release teaser social media posts
Send email newsletter

Send every month or so with updates on the timeline, construction photos, and any progress updates you can provide! Drive excitement.

Begin ordering swag and move-in gifts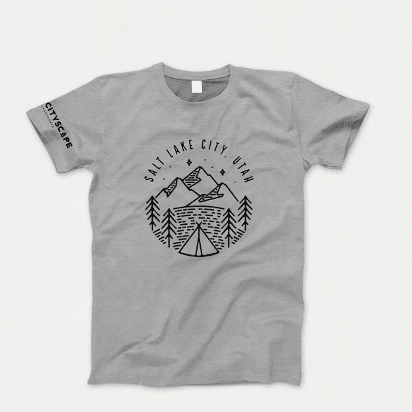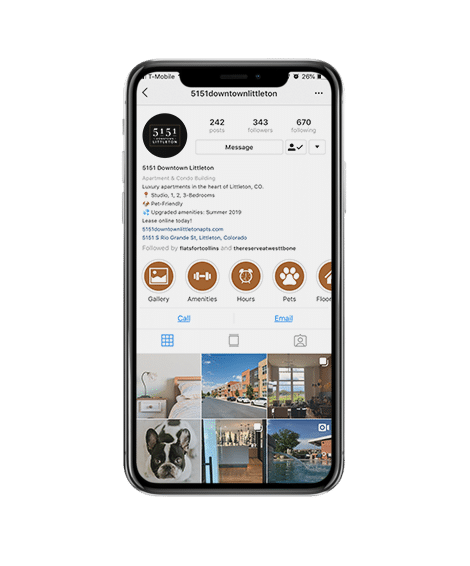 3 months out
In many instances and in our experience, the majority of renters are looking to move now, i.e. in the next 30-45 days. Pushing too soon can quickly eat through your marketing budget. You also want to be very transparent with any potential renters about the move-in date – it can and, very likely, will change.
Deliverables:
Launch website for your apartment building

Highlight community amenities, neighborhood attractions, galleries with renderings and any construction photos, and a lead form!

Corliss recommends an emphasis on "fast load times, mobile optimization, and strong copy that is SEO friendly."

Post more regular 'teaser' social media posts
Claim Google My Business listing and optimize the profile

Note: you'll need to be able to receive mail at this location to confirm ownership

Begin to post on Facebook Marketplace, Craigslist, etc.
Design printed marketing collateral needs

Think brochures, business cards, flyers, etc.

Launch Social & Google Ads campaigns

Begin light advertising, pushing leads, and building retargeting marketing lists

Send press release announcing move-in dates

Submit an update to local media for a high chance of getting picked up!

Include any photos and links to your social media, landing page, or website.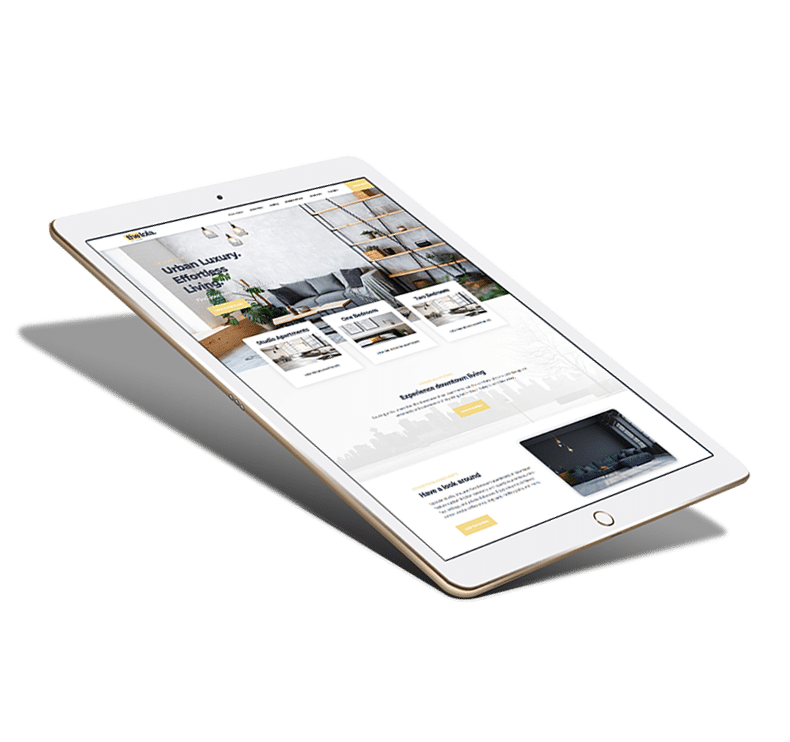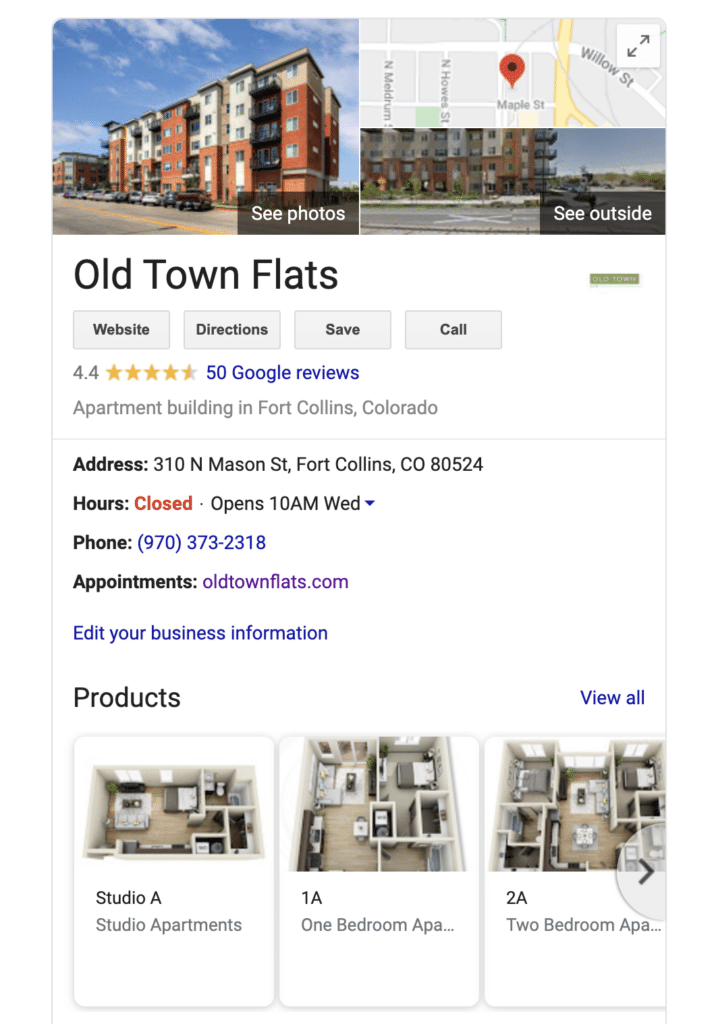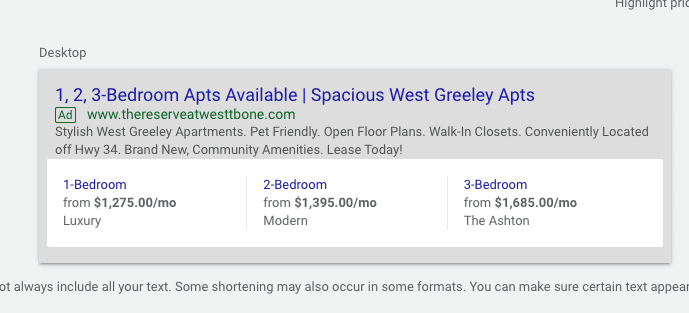 1 month out
Construction dates are fairly solid, and the excitement is building. Final touches are being made, hard hat tours are in full swing, and your leasing team is likely taking pre-leases. All marketing efforts should be ramped up and full steam ahead.
Several factors should be considered when determining marketing and advertising budget at this time, including: competition, location, total number of units coming online (if not all at once), and projected absorption schedule (which indicates the time required for available units to be leased).
When creating social media content, keep COVID alterations in mind. Corliss mentions virtual or self-guided tours in addition to "new technology to enhance the renters' journey while maintaining a human element whenever possible."
In addition, she offers unique solutions to pandemic-related marketing efforts, such as: "introducing video leasing tools like Realync, having our teams create 'meet the team' clips on YouTube, launching chatbots, using companies like LCP360 to create 360 virtual community tours, testing platforms like Rentgrata…" to name a few.
Here are some basic deliverables you can focus on…
Deliverables:
Create and schedule full social media content calendar
Launch SEO efforts
Launch heavy advertising (at least 35-50 days prior to official move-ins)
Launch ILS campaigns
Plan grand opening party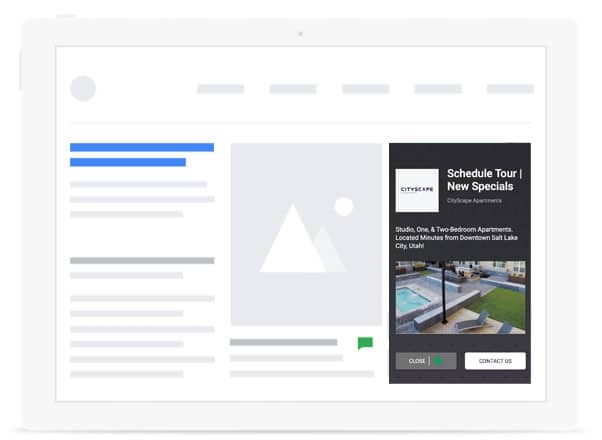 And…Go! Move-in time
The magic paper is in hand – the Certificate of Occupancy (COO), and it's move-in time! The leasing office is moving into their official office, maintenance and construction are working non-stop on fixing up last minute repairs, phones are ringing, and leads are (hopefully) coming in.
Deliverables:
Create and schedule full social media calendar (ongoing)
Integrate website with live pricing and availability once entered into the property management software
Begin collecting reviews from first residents
Schedule photo shoot, 3D tour videos, etc.
There are a lot of moving parts and marketing deliverables when dealing with a new apartment lease-up. Get in touch with our apartment marketing agency to learn how we partner with multifamily communities to drive leads and enhance their online presence.
---
Sources and related articles:
1 the average time to build a multifamily apartment building was 17.2 months in 2019, according to the Survey of Construction (SOC) from the Census Bureau.
The multifamily sector added 263,209 units to the market in Q1 2020, the highest level of deliveries during the first quarter since Q1 2018. – The End of the Recovery Begins, NAAHQ
According to the Census, more than ⅓ of all households are living in apartments. For this reason, many builders and investors are considering building new apartment buildings.