With the amount of multifamily competition that seems to be being built over-night, how does your community stand out from the competition? The first place to start is with your digital presence, your website.
When redesigning or launching a new website for an apartment community, there are several moving elements that need to cohesively come together to achieve one goal- using an online presence to generate qualified leads.
So, what exactly makes a great apartment website? It can be somewhat subjective, so we've done our best to nail down some specifics.
User Experience (UX) Design
While you desire a website that draws in the visitor and makes them feel inclined to live at your property, you also need a site that converts visitors into residents. User Experience (UX) design is the process of creating a product that provides meaningful and relevant experiences to your visitors.So, while a sexy website design may have us all 'oohing and ahhing' – we vote for a website that provides a great user experience, while still considering the what, why, and how.
Floor Plans & 3D Tours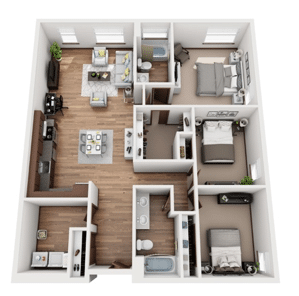 Give users an excuse to stay and look around your website a little longer. A virtual tour and 3D floor plans can capture prospective residents' attention and spark their imagination. Will your master bedroom closet be able to hold allll of their shoes? Plus! Potential out-of-state residents may be more inclined to lease online without having been to the property because of the visual representations of floor plans that your website provides.
Professional, Lifestyle Photography
More than just generic photos of a staged unit, it's time to schedule a lifestyle photoshoot. Stop by the coffee shop down the street, say 'cheers' at the local brewery, and allow the town or your amenities to tell the story that your residents live. Create a desirable community experience through high-quality, lifestyle images.
Chatbot
A more immediate form of communication for users, chatbots allow for simple conversations that can quickly turn into leads. Suddenly, your team is able to provide immediate answers to (usually) simple questions that prospective residents have. Next question- which chatbot software may be right for your business? We've discussed that here.
Social Media
Linking out to your property's social media accounts on your website shows that you care about your digital reputation. Plus, social content and social ads can be another great way to generate leads! Now, just be sure you're regularly posting to the platforms. There's nothing worse than being ghosted by an Instagram account. 👻
Search Engine Optimization (SEO)
A successful SEO campaign is fundamental in maintaining a digital presence in a competitive market. Monthly, intentional keyword research, content optimization, bad-link clean up and so much more can help improve your community's ranking on Google, Bing and others. SEO campaigns can require a decent amount of management and in-depth knowledge- our experts can handle that for you.  
Branding
Colors, fonts, photo styles, design elements? All perfected and consistent in your online presence. Invest some time to professionally develop the brand of your property. Are you funky and trendy, or a modern farmhouse? They say, don't design for brands. Design for people interacting with brands. So, how does your branding and web design speak to your audience?
A community's website not only acts as a digital, multi-page brochure, but when the right elements come together, can be a massive, qualified lead and revenue generator.
It's time to give Google and prospective residents something worth crawling. Let's get started.