There's no denying that wherever you may be located, new apartments are popping up around every corner. Competitiveness for organic search is on the rise, cost per click in Google Ads has risen over the years, and it's not going to get any easier to make your property stand out.
So how can your Google My Business (GMB listing) help your multifamily community stand out in a saturated market – or let's face it, just stand out in online search results? We're sharing three quick (and free) tips to boost your GMB listing.
Reviews and Overall Star Rating
Whether driving by, walking past, or simply searching online for an apartment…I think we can all agree the first thing prospects do is Google your business's name, if known, or "apartments near me". So, what happens next?
If your GMB listing shows up and has a 1-3-star rating (or, in our opinion, anything under a 4-star rating), your chances of getting immediately disqualified from a prospect's search is extremely high.
Reputation management and asking for reviews is sooo important, especially in today's world. Ask for the reviews and build up that reputation – first impressions are everything.  

Add GMB LIsting Posts (weekly!)
Adding posts to your GMB listing is as simple as creating an Instagram or Facebook post. They are a perfect area to highlight any timely specials, events, or amenities. The Google Posts beef up your GMB listing, increases exposure, can create rich snippets, gives prospects a first glance into your community, and so much more.
Also, they expire after 7 days, so you don't have to worry about removing an old promotion that may have expired.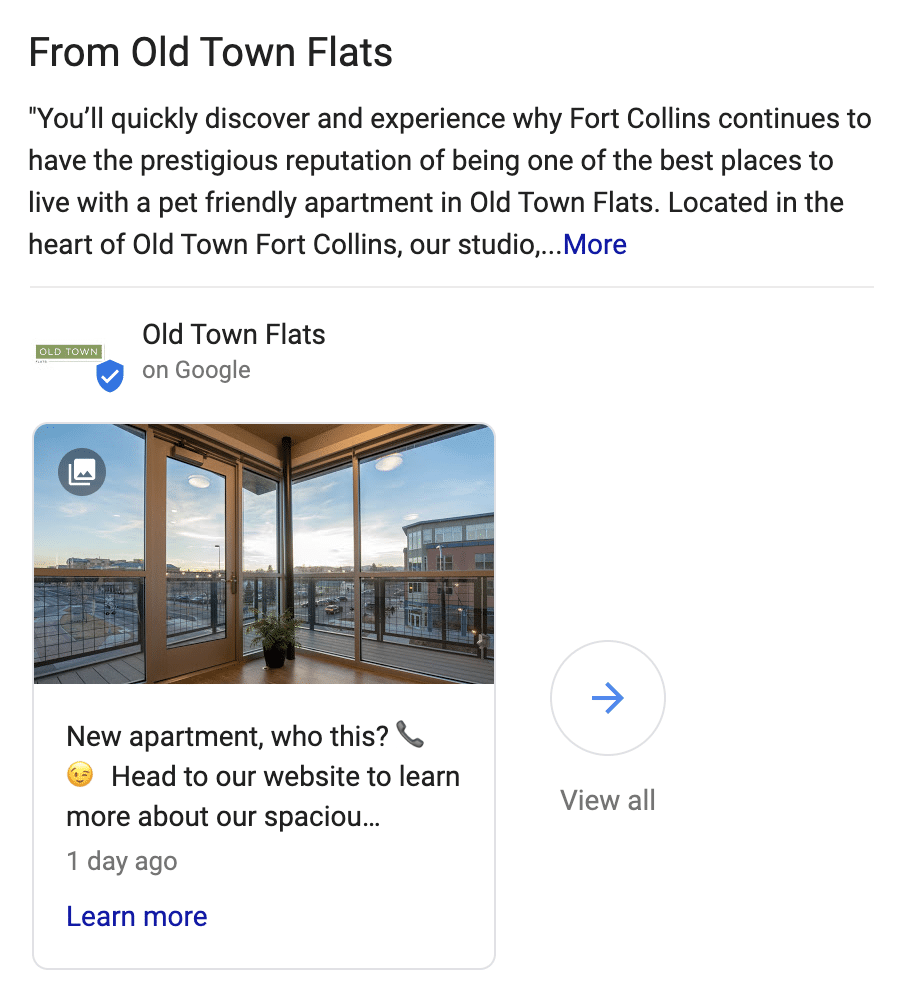 Add Floor Plans as Products
This is a simple feature that we've only seen a few communities taking advantage of (unless you're a Brindle client, wink wink): optimizing your GMB listing's "Products". This is the P-E-R-F-E-C-T spot to highlight your floor plans.
You no longer are required to provide a price and can also add a link to your website for more information. You can also create different categories that we've used to segment out the studio, one, two-bedroom floor plans.
Check out that extra real estate in the search results plus how awesome this GMB listing looks.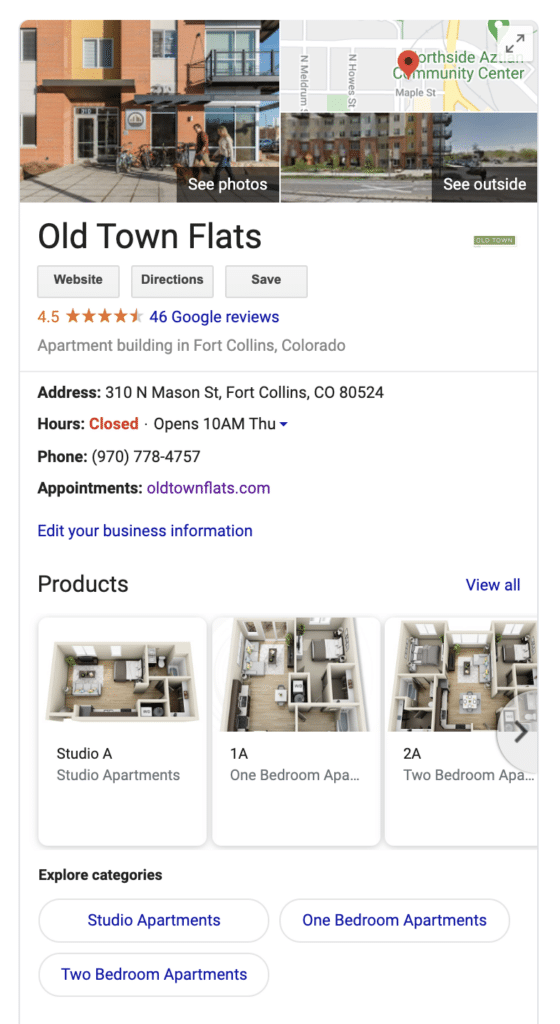 As a recap, 3 GMB Listing Tips to Help Your Apartment Stand Out in a Saturated Market (for free)?
Recruit positive Google reviews – that star rating matters!
Add weekly GMB Posts
Optimize the Products section in your GMB listing
How is your apartment marketing performing? Get in touch with our marketing specialists today to learn more about how we can help your property stand out.