Are you looking to level up your multifamily social media game? You've come to the right place. Posting on social media can be daunting, but don't worry—we're here to help. In this blog post, we'll uncover 15 creative and quality apartment social media ideas and content pillars that will position your community to stand out from the crowd. Let's dive in.
1. #ApartmentsGoals Posts
Showcase what makes your community special by creating #ApartmentsGoals posts featuring common areas and amenities that your residents love. Not only do these types of posts give prospective renters an idea of what living in your community is like, they also make great content for Instagram and Facebook stories.
2. Before & After Posts
Before and after posts are always popular on social media, so why not use them to show off some of the improvements or renovations you've made to your apartment community? You can compare before and after pictures of an updated gym or lobby, or post-transformation pictures of a unit recently renovated.
3. User-Generated Content
Social media was created with the intent to foster more – well – social interaction. Facebook has especially pushed for more interconnectivity in recent marketing efforts, and we recommend that apartment communities do the same. Accomplish this by encouraging residents to share content to then be used on your social pages. A few tips include:
Ask users to share photos from resident events
Establish a brand hashtag for residents to include in posts
Host a Pet of the Month contest…because who can resist liking a picture of a furry friend?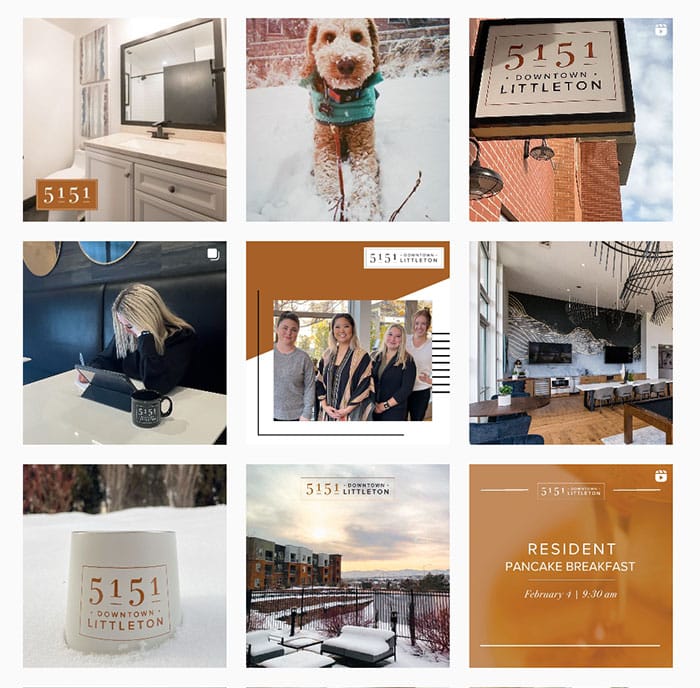 4. Resident Testimonials & REVIEWS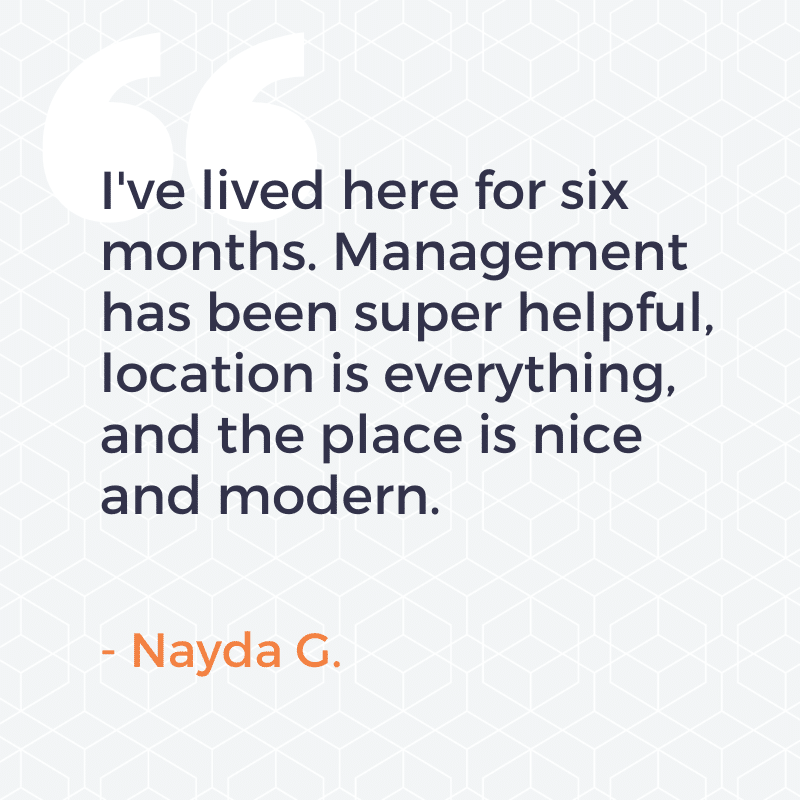 Your word is good, but the word of fellow residents is even better. Before locking down a year-long home, people want to know that they can rely on your management to be reasonable, efficient and helpful. This is largely communicated through online reviews. Be on the constant prowl for positive Facebook, Google and Yelp reviews that highlight what you would personally like to promote about the apartment community. Feature the positive ones on social media in creative graphics that match your community's branding guidelines. This will also encourage other residents to leave positive reviews!
5. Spread the Word with Resident Events
Events are a quick and streamlined way of promoting the fun and shenanigans you're offering your residents. In many cases, residents who are not necessarily avid social media fanatics will still check out your page to see what's coming down the pipeline. Make their lives easier by adding all the details in one consolidated place. And on a side note – let's review a few solid resident event ideas:
Anything with food or drink: Taco Tuesday, Saturday Brunch, and Happy Hour are all resident (and frankly human being) favorites.
Events for dogs: What do people love more than other people? Their dogs. If you have a pet-friendly community, host an event that specifically caters to furry friends for an instant homerun.
Amenities highlights: Proud of your pool? Crazy about your clubhouse? Show 'em off! Host a pool party, billiards tournament or anything else to remind residents why their home is so special.
6. Walkthrough 360 Videos of Your Community
Another great way to engage with your followers on social media is by sharing simple walkthrough videos. Showcase different amenities, such as pools, gyms, or outdoor spaces; highlight any special events that you may be hosting; or showcase the unique features of each unit. This will give prospective renters a better idea of what life at your apartments looks like and can help them visualize themselves living there.
Just remember—quality matters! Make sure all of the photos and videos are high-quality, so they look professional and polished. Pro tip: a Gimbal or phone stabilizer can help take your cell phone videos to the next level and make sure the walkthroughs are smooth.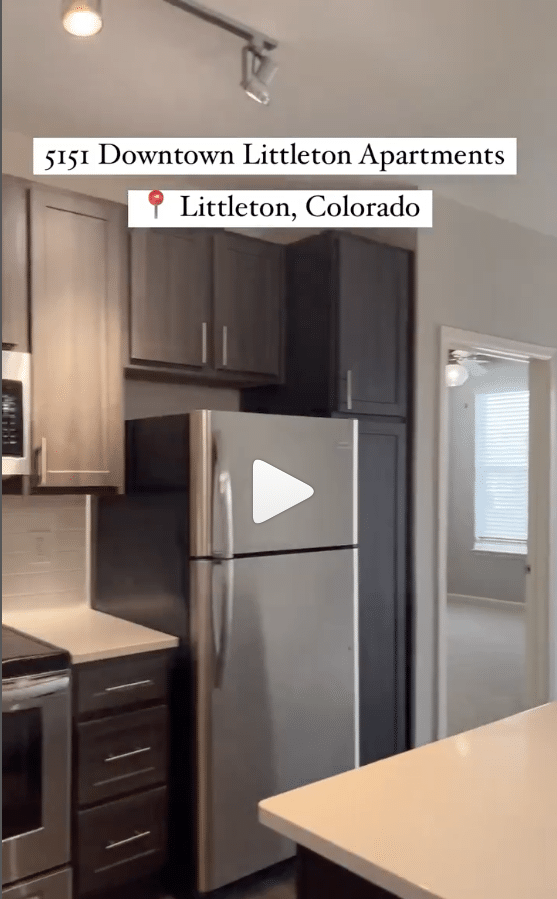 7. Connect With Other Businesses & People
Social media isn't just about promoting yourself—it's also about connecting with others in the community (and beyond). Reach out to other local businesses or influencers in the area who may be interested in partnering with you for giveaways or promotions (this can also be a great way to increase brand awareness). You can also use social media as an opportunity for networking by connecting with other multifamily professionals across the country who may have helpful advice or resources that could be beneficial for you.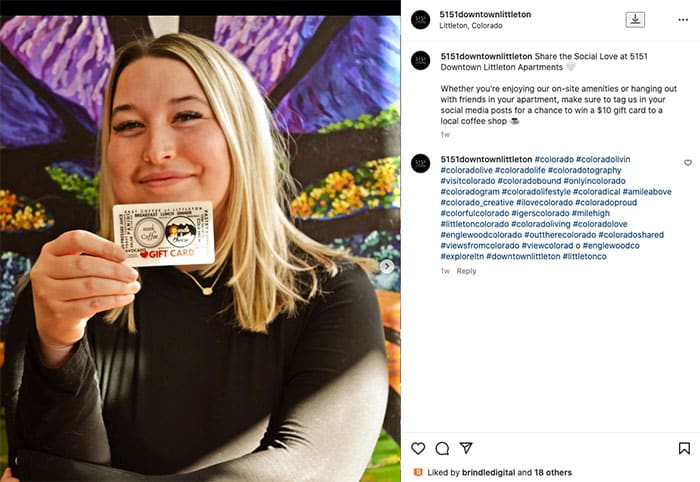 8. Interactive Polls & Quizzes
Engaging with your followers doesn't have to be complicated. Try running an interactive poll or quiz asking questions about local attractions or special interests in the area. This type of content is especially great for Instagram Stories because it encourages interaction and helps create a sense of community around your brand.
9. Provide Pet-Friendly Tips
Share tips and advice for pet owners, such as where to find dog parks or how to keep a cat entertained in an apartment.
10. Share a Recipe of the week or month
Share recipes for easy and healthy meals that can be made in a small apartment kitchen.
11. Community or neighborhood News
Include news about what's happening in your community, such as new businesses opening or community events.
12. Host a Photo Contest
Encourage residents to share photos of their apartments on social media with a specific hashtag. The best photo wins a prize such as a local gift card – continue this on a regular basis for increased engagement.
13. Share DIY Home Improvement Tips
Share DIY home improvement tips on social media to help residents spruce up their apartments and make them feel more like home.
14. Meet the team posts
Share posts that include a photo and bio of a leasing team member or apartment team member – people love to meet and see friendly faces.
15. Share Local History
Share interesting facts and history about the neighborhood surrounding your apartments, such as the history of a local landmark or famous residents who have lived there in the past. This will help potential renters feel more connected to the community.
Social media provides apartment communities with a great platform for engaging with potential residents and building relationships with current ones. By using creative post ideas such as #ApartmentsGoals posts, before & after pictures, polls, and quizzes, you can make sure that your apartment community stands out in the crowded digital landscape and attracts new renters while keeping existing ones engaged.
Need help with your apartment social media marketing?
Brindle specializes in multifamily and apartment social media marketing, so give us a shout to take your strategy to the next level and take another thing off your plate.