Just like your favorite friends and kooky cousins, every apartment community has its own unique personality. This is established through countless aspects, small and large – the color scheme in the clubhouse, the amenities offered, the location, etc. The voice given to each apartment community on social media pages is key to communicating its brand to external audiences.
Whether your apartment community is hip and chic, cozy and comfy, family-friendly or anything in between, we have some fool-proof tips for elevating your overarching apartment social media marketing strategy.
1 | Quality Apartment Photography
A picture is worth a thousand words…and when it comes to apartment photography, we'll up that to ten thousand words. When deciding where to live, a prospective resident wants a clear idea of what their new home will look like. We strongly recommend a professional photoshoot to generate ample social media content. What to put on the short list? Well…
Apartment spaces, such as wide shots of each room (bonus: show people living in these spaces!)
Apartment finishes – countertop material shows how much you care about upgrades!
Balconies and patios
Community amenities (because everyone loves a picturesque pool view)
Clubhouse amenities
Bonus points for staging the apartment unit with inviting color schemes!
2 | User-Generated Content
Social media was created with the intent to foster more – well – social interaction. Facebook has especially pushed for more interconnectivity in recent marketing efforts, and we recommend that apartment communities do the same. Accomplish this by encouraging residents to share content to then be used on your social pages. A few tips include:
Ask users to share photos from resident events
Establish a brand hashtag for residents to include in posts
Host a Pet of the Month contest…because who can resist liking a picture of a furry friend?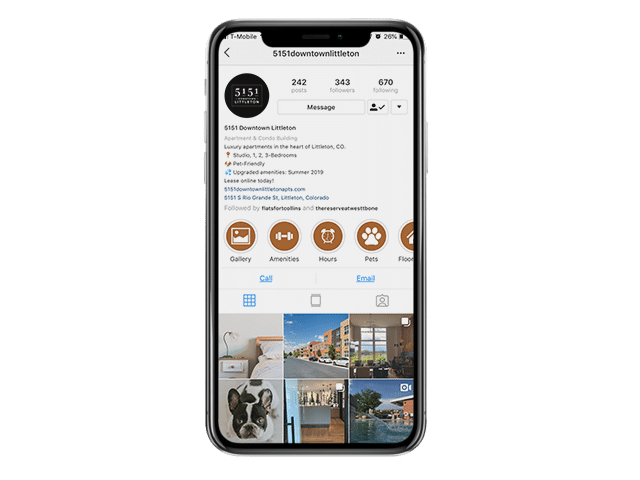 3 | Utilize Stories
Instagram Stories and Snapchat target younger renters and foster a more personal bond with your audience. Keep content fresh by featuring new amenity transformations, new resident welcomes, creative leasing calls to action, and recap videos from recent resident events. We also recommend that you research trending social media post types to always stay current in your content.
4 | Feature Resident Testimonials
Your word is good, but the word of fellow residents is even better. Before locking down a year-long home, people want to know that they can rely on your management to be reasonable, efficient and helpful. This is largely communicated through online reviews. Be on the constant prowl for positive Facebook, Google and Yelp reviews that highlight what you would personally like to promote about the apartment community. Feature the positive ones on social media in creative graphics that match your community's branding guidelines. This will also encourage other residents to leave positive reviews!
5 | Spread the Word with Facebook Events
Facebook events is a quick and streamlined way of promoting the fun and shenanigans you're offering your residents. In many cases, residents who are not necessarily avid social media fanatics will still check out your page to see what's coming down the pipeline. Make their lives easier by adding all the details in one consolidated place. And on a side note – let's review a few solid resident event ideas:
Anything with food or drink: Taco Tuesday, Saturday Brunch, and Happy Hour are all resident (and frankly human being) favorites.
Events for dogs: What do people love more than other people? Their dogs. If you have a pet-friendly community, host an event that specifically caters to furry friends for an instant homerun.
Amenities highlights: Proud of your pool? Crazy about your clubhouse? Show 'em off! Host a pool party, billiards tournament or anything else to remind residents why their home is so special.
Apartment social media marketing is a whole new ballgame – not to mention a powerful way to attract new residents and engage with current residents. Brindle is extremely well-versed in every area of multifamily apartment marketing, so give us a shout to take your strategy to the next level!